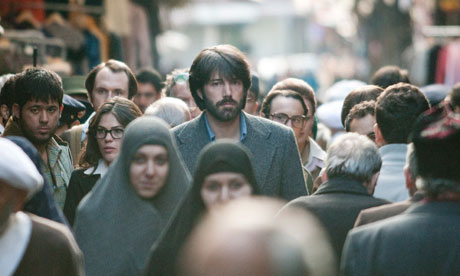 "Ben Affleck got robbed." Those are Bradley Cooper's words, not mine. Though after finally seeing "Argo," directed by Ben Affleck, I couldn't agree more.
The film "Argo" is based on on a true story better known as the "Canadian Caper." During the 1979 Iran hostage, CIA operative Tony Mendez (played by Ben Affleck) led the rescue of six U.S. dipolmats from Tehran, through the unlikely cover of a film crew. The actual fake film, was called "Argo." The film follows the process for the CIA in determining the best route to bring our U.S. dipolmats back home, but throughout it's clear that America was not so much the hero in this story, which seems to be a film trend as of late. Let's just say, "Thank you Canada."
After his directorial debut of "Gone Baby Gone" and "The Town", "Argo" seems to be a new caliber of direction for Afflect. Clearly, judging from recent award shows, few would differ in opinion. Ben Affleck has won Best Director for "Argo" at nearly every award show this year. Yet upon receiving Best Director for "Critic's Choice", the "Golden Globes", the "Screen Actor's Guild", the "Director's Guild of America" and even last night's "British Academy and Television Arts Award Show" it seems illogical that the one nomination he would not receive is at the "Academy Awards." (For those of you out of the loop, think of the Oscar's as the créme de la créme of film awards, or for those of youplainly not interested, the World Series of film awards.)
"Argo" is as crisp and poignant a story as they come, based on our neglected history, it unravels swiftly and sharply even with some much-needed comic relief amidst truly horrific events. Directors that bring to life the history that we've been kept shut from, or components we are simply ignorant to, are to be applauded.This brings up the question, how was it that Kathryn Bigelow was also snubbed from a nomination from the Academy as well? Without diving into some conspiracy theory that I may or may not have ( which I would have so little knowledge of to even convey, let alone make sense trying to post at this time of night) I can't help but wonder how politics plays into these nominations. How directors, who's films captured thrilling American events, will show up at the Oscars without so much as a run at Best Director is beyond me. But at the young age that Affleck is at in his directing career, I'm sure the opportunity for a(nother) Academy Award in his lifetime is highly likely. And at the end of the day when the Foreign Film Press, the Screen Actor's Guild and the British Academy all award you with Best Director of the Year, you've got to feel like you've done something right, huh? Well Oscar, how 'bout them apples?